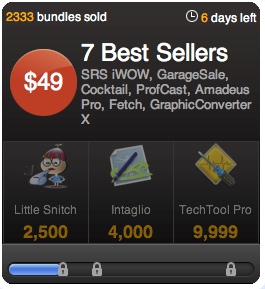 MacUpdate has a "bundle" which has the unique feature of unlocking additional applications depending on the number of sales.
The $49 bundle includes GraphicConverter, Fetch, iWOW, GarageSale, Cocktail, ProfCast, and Amadeus Pro as the first 7 apps. It's a good deal at that price, but at 2500 sales (almost there), Little Snitch is unlocked, 4000 includes Intaglio, and at 9999 TechTool Pro gets included.
I have my doubts 10k sales will get hit, but even at the 2500 level, it's a good deal for some great apps — especially iWOW for iTunes (great sound enhancer, although Volume Logic is still my fav), the geeky tuning tool Cocktail, and swiss army knife of images, GraphicCoverter (something I've considered essential for at least a decade.) Little Snitch will likely be unlocked, an invaluable tool for you paranoid types worrying about apps "phoning home."
Why am I pimping it? Mostly because it's a good deal, although I have my quibbles about these bundles and if they actually benefit developers fairly. But, providing these heavy-weight anchors at the higher end does provide ample incentive.
And all this despite MacUpdate going wingnut Christian a few Christmases ago. Yet I still use 'em, as they're much better than that other update directory.