Outside the Safeway I usually go to, almost daily, since it's close: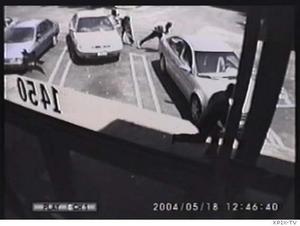 Chron has the story, plus video.
The camera had a bird's-eye view of the broad-daylight shooting of 26- year-old Chris Johnson, the city's 36th homicide of the year. Grainy video shows two men in T-shirts running up to the driver's side of a Ford Contour, which was parked in front of the check-cashing store window, and firing multiple shots at Johnson before running away.
City homicides are getting a little nuts this year. Needs to stop. Newsom is showing up at some of the crime scenes (including this one), which I think is more than a PR move. Hope he's got a rabbit in that hat. I've always felt relatively safe in this city, despite its size.