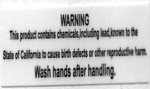 So I bought this Belkin 7-port USB hub today at CompUSA, as it seemed to be a steal at $39.99 with a $10 mail-in rebate.
At the register, it rings up as "BELKIN ECONOMY HUB" which causes me some concern — I don't remember what was "economical" (read: hobbled functionality) about it, other than it's cheap price.
I get home, install it and plug everything in. All's well.
But then I notice this wee-little warning sticker attached to the back of the package: "WARNING! This product contains chemicals, including lead, known to the State of California to cause birth defects or other reproductive harm. Wash hands after handling."
I race for the bathroom at lightning speed… wash and repeat. Wash and repeat. Huge sigh of relief. Then I remember that I'm not pregnant! But anyway…
What gives? Is this some third-world edition hub they couldn't move in Uruguay, so they're unloading it on Americans bargain shopping in Mexican-owned big-box computer retailers?
So there it is… taunting me to touch it, rub it, and let it enlarge my colon… but no, not gonna do it!
Perhaps Belkin were the original makers of the Happy Fun Ball?