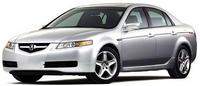 Some uber-options didn't make it to production (camera rearviews, compressed air wipers), but other stuff did: XM radio, Bluetooth connectivity, DVD 5.1 Audio, and "3D Solar Sensing" (it finds the sun and adjusts airflow accordingly). Powertrain is a carry-over from the previous Type-S now at 270HP. (Thankfully, they didn't choose the tamer V6 found in the new Accord and souped up the high-strung and well-loved V6 of the previous models.) Styling is unmistakably German-inspired and absolutely beautiful.
Acura has now posted a preview on their website. In talking to a dealer in Phoenix this past week, the new TL will arrive at dealers in the first week of October.
Edmunds has updated its preview, and mentions an "A-SPEC package" which will offer "high-performance springs and shocks that lower the car about an inch, 18-inch wheels with 235/40ZR18 Yokohama tires, an aero body kit, a rear spoiler, a sport steering wheel and special exterior badging." Standard with the 6-speed MT is Bremo brakes.