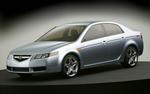 According to Motor Trend, Acura will discontinue the CL model, the coupe cousin of the TL, this fall. Being the proud owner of a 2003 CL MT Type-S, I'm sorry to see it go. They may bring it back in 2005, but if they don't, I'm gonna have to start looking at the G35 (gack!), with it's Espresso-maker cum ATM interior. (Pop-up nav systems say bad design, not geekchic.)
However, the new 2004 TL sounds like a winner:
The TL concept features 19-inch wheels, Brembo brakes, and high-pressure air nozzles in place of windshield wipers. Few production details were released, though officials proudly revealed that the high-tech 2004 TL will have the first automotive application of DVD Audio 5.1, along with Bluetooth wireless connectivity, and XM Satellite Radio.
Edmunds.com has some photos of the "concept car" Acura presented at the 2003 NY Auto Show. It's likely most of the gee-whiz-bang features will make it into production, provided they can hit the right price point. I love gadgets, and this car is full of 'em…