In no particular order: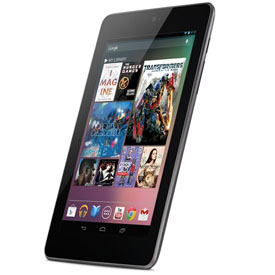 At $200, it's a steal.
On a 8GB model, you get about 5 1/2 of "free" space left when you receive the device.
Out of the box, it's tightly integrated with Google's services and Google Play. You have no obligation to use them.
If you have a problem with the big Goog, remember they loose money every time you buy one. (More so on the 16GB model, the price difference between the 16GB and 32GB in raw parts is only ~$5)
Do not expect iPad Retina crispness, but the display is bright, vibrant and holds up well in bright ambient sunlight. (I've not tested in direct sunlight, tablets don't tend to like that as they quickly absorb heat anyway.)
Android 4.1 "Jelly Bean" is the best yet.
Scrolling/swiping still doesn't come close to iOS's buttery smoothness. I'm not sure why Android can't get this right.
The mix of a "welcome" screen (when you first swipe to unlock), various widget pages and navigation to get to apps will still confuse the uninitiated. Not so much that people won't find what they're looking for, but there will be many who only know "Oh, I unlock, then I this screen (that I don't want) and then click this button to get to my stuff."
Almost nothing orients to portrait. Some apps force it for necessity, such as Netflix.
Annoyance: The soft keyboard does not pop in all cases when text input is expected.
Annoyance: If I sleep the device, then click it back on, it doesn't return to the app I was in but rather Google's "cards," which while neat, I would really like to turn off save a home screen widget.
When a user is located at a bus or train station, a Google Now public transportation card will appear that says when the next buses and trains are arriving.
As a user walks down the street in a new place, Google Now will suggest points of interest.
Once a user searches for a flight, Google Now creates a card for it that is updated with flight status and delays.
Google will also determine what sports team a user is most interested in, based on search history, and show a card of scores and upcoming games.
There are also cards for travel, translation, etc.
Definitely this is the wave of current "it" apps such as Waze and Cue, and even Siri to some extent. It's a drain on the battery, but that's technical and can be solved. It raises all sorts of privacy concerns — imagine your phone beaming out location data constantly to a dozen different companies.
But the real problem is the annoyance factor: your phone never shutting up with coupons for Subway, spas, and offers to test drive Hondas. It's going to be tough to balance and get the noise level manageable. Many will just shut them off entirely if annoyed even once.
Apple provides decent controls over Notification Center, we'll see how well Google does it considering that to them this is just another platform from which to beam shitty ads to your eyeballs.